Clonmel World Music Proudly Presents :
Red Molly (New York, USA)
Raheen House Hotel Clonmel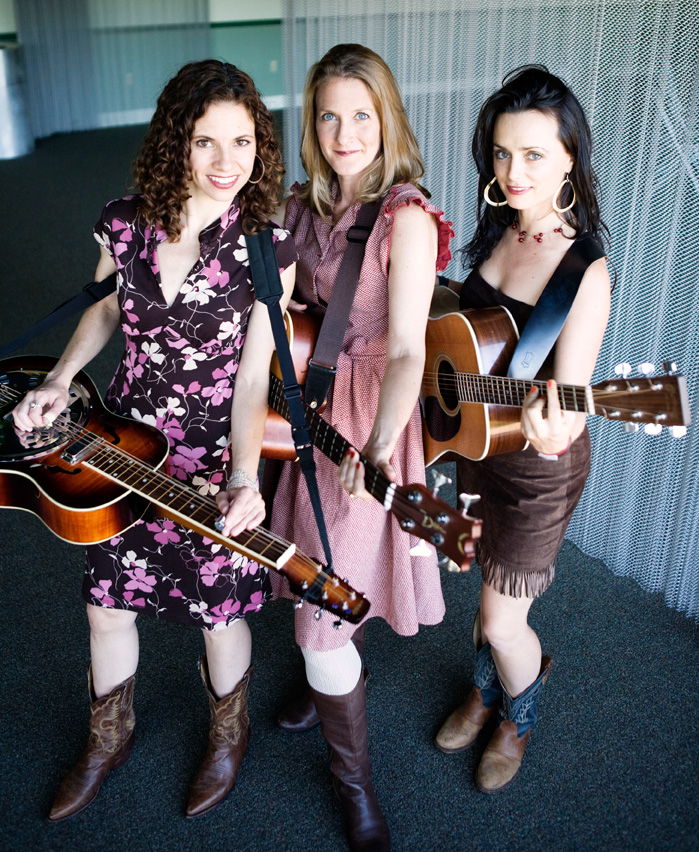 From New York USA, Americana trio Red Molly has been bringing audiences to their feet with gorgeous three-part harmonies, crisp musicianship, and their warm, engaging stage presence and have made appearances at some of the finest US folk festivals such as Telluride Americana Music Fest, MerleFest, and RockyGrass.. Formed in 2004 the band consists of Laurie MacAllister (bass, banjo), Abbie Gardner (dobro, banjo) and Molly Venter (guitar). This past year, the ladies were invited to open multiple shows for music legend Willie Nelson. They perform original works composed by each of the group members, as well as covers of other songwriters including

Hank Williams

,

Gillian Welch

and

Ryan Adams

.
Gracing stages from Denver to Denmark, from Australia to Austin, Red Molly is renowned for their live shows. Four-time featured artist at MerleFest, breakout stars at RockyGrass, and the darlings of the Bristol Rhythm and Roots Reunion, the "Mollies" bring audiences to their feet, whether it's on a grand festival stage or in an intimate concert hall.
Their latest CD, "The Red Album", released on May 27, 2014, was featured as pick of the day in USA Today and CMT Edge. It debuted at #1 on the Folk DJ radio chart and reached #10 on the Americana Radio chart. The new CD marks their first Nashville-produced album. The overall result is a grittier sonic landscape, juxtaposed with Red Molly's signature pristine threepart harmonies. The CD has eight original songs written by the band. The band also continues their long tradition of honouring other songwriters, and this CD features a brilliant cover of Simon and Garfunkel's "Homeward Bound", and a stunning version of Richard Thompson's iconic "1952 Vincent Black Lightning",


Organic musicianship, a respect for the traditions of American music, and an obvious love of crafting music together lend a joyous atmosphere to Red Molly's live performances, and a natural balance to their studio recordings.
"Make room, Roches and Wailin' Jennys, Red Molly has earned a place among the elite female trios."
-John Platt, WFUV
Tickets now on sale in Premier Music Store Clonmel - 052 6129811
OR from Gerry Lawless on 0863389619
De Temps Antan (Quebec, Canada)
Raheen House Hotel Clonmel
Andrè Brunet, Pierre-Luc Dupuis and Èric Beaudry are The Big Three of the French Quebecois traditional music scene.
De Temps Antan have been thrilling audiences with a dynamic delivery of classic tunes and songs, as well as original compositions, thanks to the infectious nature of the music, their boundless energy and unmistakable Quebecois joie de vivre. Powered by Brunet's ace fiddling, Beaudry's powerhouse rhythm guitar and clogging feet, and Dupuis' punchy accordion, this is hard-driving acoustic music, truly great

"World Music". This is a hugely-impressive multi-instrumentalist group and all 3 were members of the famous band La Bottine Souriante
"Explosive" – fRoots magazine
"Real classy – a delight!(*****)" – R2 (Rock 'n' Reel magazine)
This is a rare opportunity to see this fantastic band in Tipperary, one you won't want to miss.
www.detempsantan.qc.ca
Chatham County Line (North Carolina USA)
Special Guests Mandolin Orange
Raheen House Hotel Clonmel
Thursday 20th Nov

2014
The Raleigh, North Carolina Bluegrass Legends

make their first visit to Clonmel,

which is one of only 2 Irish gigs on a European Tour promoting

their new Album. Dynamic and captivating, Chatham County Line are equally capable of classically hard-driving bluegrass and sparse, haunting ballads. The key to their sound lays in the close collaboration of the band's four members – Dave Wilson (guitar), John Teer (mandolin, fiddle), Chandler Hold (banjo), and Greg Readling (stand up bass) who have been together for 10 years and have released 7 Albums.
Chatham County Line have an ongoing commitment to classic stringband instrumentation, While their acoustic lineup informs their performances, it places no limitations on the band's formidable songwriting talent.
This is a band we have been after for 5 years, we can't recommend them highly enough.
Special Guests on the tour will be Mandolin Orange, a great duo who combine Folk, Bluegrass and Pop, playing electric and acoustic guitars, mandolin and fiddle.
Clonmel World Music Gigs 2014

Elephant Revival (USA) - Tue 28th January
The Paperboys (Canada) - Wed 04th June
The Karan Casey Band -
Thursday 04th Sept
Red Molly (USA) -
Friday 10th Oct
De Temps Antan (Quebec, Canada) -
Thursday 30th Oct
Chatham County Line (North Carolina USA)-
Thursday 20th Nov
Clonmel World Music Gig History
2013
Petunia and The Vipers(Canada) - 05th February
Eilen Jewell Band (USA) - 01st April
Birds Of Chicago (USA) - 25th April
The Paperboys (Canada) - 03rd June
Pokey Lafarge Band(USA) -
04th Sept
The Wiyos (USA) 26th Sept
ABC Of Canadian Music - 24th Oct
2012
Zoe Muth & The Lost High Rollers (USA) -03rd Feb
ASHELIN (Newfoundland) - 12th March
Woody Pines (New Orleans) - 26th April
I Draw Slow (Dublin) Wed 13th June
Mairtin O'Connor Band Wed 01st August
Spirit Family Reunion Thu 06th Sept
2011
The Fox Hunt (USA) &

The Henry Girls (IRE) -27th Jan
The Wiyos (New York) - Thur 14th April
The Wilders (Kansas, Missouri) - Mon 23rd May
Tennessee Mafia Jug Band (Tennessee, USA) - Wed 20th July
Po Girl (USA/Canada) - 06th & 07th Sept
Eilen Jewell Band - 02nd Nov
2010
Prison Love - May
Po Girl - July
Southern Tenant Folk Union - Aug
Pokey Lafarge & The South City Three - Sept